MILANI PACKING INC.
Specialties
Packing, Crating, Warehousing, White Glove Delivery Services.
History
Established in 1930.
We are a fourth generation business. The company was started in 1930 by Joe Milani as a moving company and throughout the years we have transformed our business into a leading fine art logistics company. We handle everything from the pick up to packing and crating to shipment and customs clearance in most countries throughout the world. We also have an East Coast Shuttle Service that we are very proud of. Our shuttle service is handled on our climate controlled trucks, we handle anything from works of art for major auction house's and private clients to furniture for the leading interior designers in the country.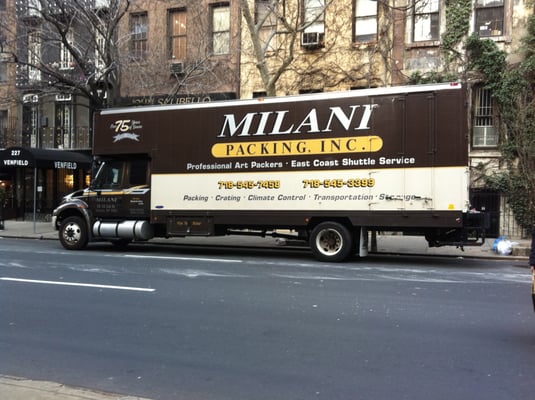 Give us a call anything to discuss your needs or for a detailed quote.
We were recommended to them from a gallery we brought some works from. Then it turns our best friends use them for everything and they have a huge collection. They picked up and delivered the works flawlessly and hung each piece on the wall in its correct spot for us. The reason I am writing this review is because we just hired them to move us and you hear horrendous stories but Nicholas the owner came personally and made us feel comfortable and they did everything he said they would and ontime. I went to work and each night I would pass by and I saw it all getting done piece by piece. This was a very tough move because of the pieces. Give them a call and ask for Nicholas he's a pleasure. Thank you very much The Bernstein's
I don't know how to start, Wonderful … Great….we called them last minute and they helped us with a major job. They came ontime and were wonderful. The Forman on the job Kevin ran it perfectly. There were a few items we were extremely worried about but it was no problem for them.
We took in a delivery from Paris today, which milani delivered to us and they were great. The guys came in delivered the pieces opened and placed everything for us and the removed the garbage as well. It's very stressful to buy something when traveling and to think is it going to arrive in one piece or on time but I just called milani and let them make all the arrangements to get it too me and they did. They are always very fare with me price wise as well.